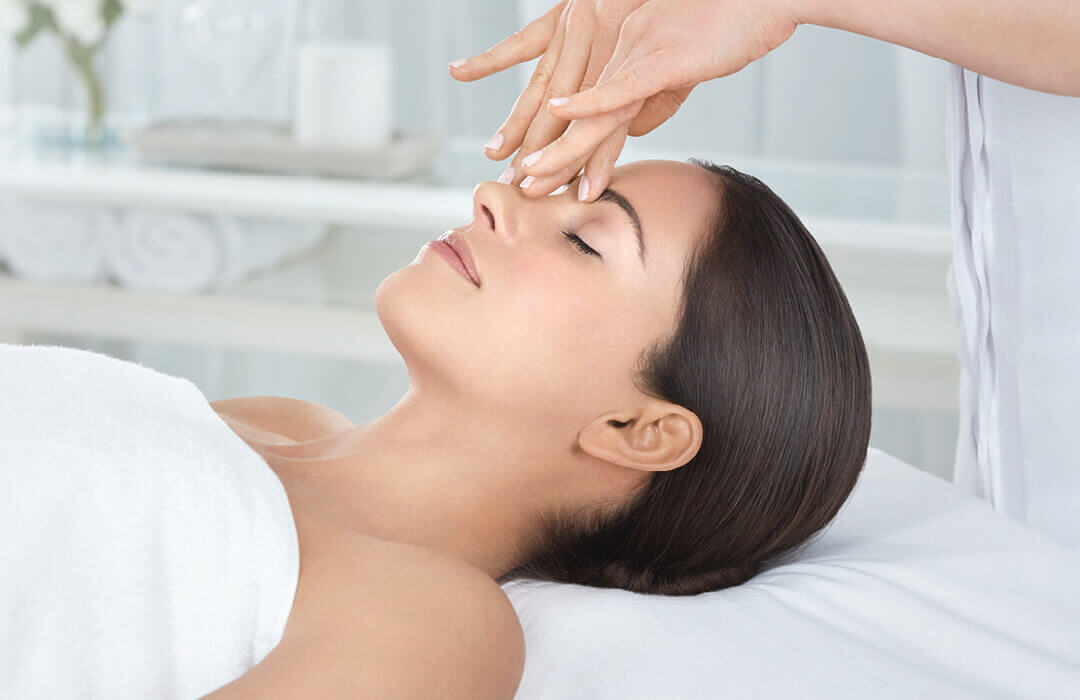 BIOTEC Facial Treatments
Elemis has combined high-potency pharmaceuticals and its unique hands-on therapy with the science of bio-electric technology to deliver a new generation of facials through its Biotec treatments. Unresponsive cells need new stimuli to help reboot cellular performance, enhancing the skin's ability to repair and renew. After in-depth research, Elemis found by combining a unique synergy targeted stimuli, it is possible to deliver immediate, visible and longer-lasting skincare results. The pioneering BIOTEC machine works to switch your skin back on, increasing its natural cellular energy. The clinically proven result? Visibly healthy, nourished and energised skin.
(60-minute one-off treatment) 50 MINS £75.00
(course of 5 treatments) £262.50 (30% Saving )
(course of 10 treatments) £525.00 (30%  Saving)
Skin Booster Facial
Uniquely designed for maximum results in minimum time.
(25 minutes) £29.50

Skin Solution Facial
S.O.S Purifying Facial: Purifying congested skin, helping to absorb sebum, calm irritation and rebalance oil-rich pores, leaving a beautiful matte complexion.
Oxygen Skincalm Facial: Soothe sensitive skin and even skin tone, helping to rebalance delicate, fragile and sensitive complexions. Relieves redness and offers immediate comfort to irritated skin.
Modern Skin Facial: Rebalance stressed skin and restore a healthy glow, removes damaging toxins, regenerates skin cells and balance sebum. Bursting with anti-oxidant rich minerals and vitamins.
(65 minutes) £62.50

Skin Specific Facial 
Customised to your skin type, this facial combines skin conditioning plant actives, a prescription mask and unique eastern facial massage techniques. Your face is deeply cleansed to help renew radiance, nourish and balance skin. The perfect maintenance facial.
(50 minutes) £44.50
Advanced Anti-Ageing Facials 
Pro-Collagen Quartz Lift Facial: Clinically proven to reduce wrinkles and improve firmness after just 1 treatment. Includes a specialised lifting massage and mask.
Visible Brilliance Facial: Perfect pre-occasion treatment. Relieves dull, slackened skin and restores radiance.
Tri-Enzyme Resurfacing Facial: Peel away the years for a smoother, renewed skin. This unique treatment targets blemishes, uneven skin tone, superficial facial scarring and fine lines, revealing a younger looking skin.
Pro-Intense Lift Effect Facial: Powerful lifting techniques target sagging jowls, cheeks, chin and neck, whilst helping to reduce puffiness and fluid retention associated with sagging skin.
(60 minutes) £66.50
Microdermabrasion Derma-Visage
25 Minutes – £35.00
COURSE OF 10 – £245.00 (SAVE 30%)
50 Minutes – £48.00
COURSE OF 10 – £339.50 (SAVE 30%)
Courses must be taken within 6 months of purchase and paid for in full prior to first treatment.
Results include:
Refines skin and deep cleanses
Improves cellular function and regeneration
Increases blood and lymph circulation
Enhances the effectiveness of active ingredients
Rejuvenates aged and damaged skin
Aids the reduction of pigmentation
Reduces the appearance of scarring

Opening Hours
Monday: Closed 
Tuesday - Thursday 10am - 8pm
Friday & Saturday: 9am – 5pm
Sunday: closed